Fleet Inventory

Our Germain Ford of Columbus fleet department specializes in commercial vehicle sales and we're confident that we have the vehicles to meet your company's individual objectives. We understand that many of our business customers have volume-pricing needs, and we're here to help you find value for the appropriate vehicle to help your business grow.
Our Germain Ford of Columbus fleet department supplies Medium Duty trucks, and Super Duty trucks including the F-350, F-450, F-550, F-650, F-750. We also carry Crane Trucks, Ford Transit Vans, Ford Cab and Chassis vehicles, E-Series Cab and Chassis vehicles, Ford Transit Cab and Chassis vehicles, and Box trucks.
These vehicles are often used as work trucks, snow plow-spreader trucks, landscaping trucks, contractor trucks, dump trucks, flatbed trucks, plumber service trucks, service body trucks, catering vans, flower delivery vans, dry cleaning vans, and HVAC service trucks. No matter what industry you're in, we'll help you find the right vehicle to maximize your output.
In addition to our Fleet sales department our Germain Ford of Columbus Service department is equipped to maintain and service your commercial vehicle. We understand that keeping commercial vehicles well maintained and running at their optimum potential is vital to your business, so we specialize in Ford medium duty truck repairs, Ford super duty truck repairs, Cummins certified engine repairs, and CAT certified engine repairs using all Ford medium duty parts, Ford Super Duty parts, Cummins parts and CAT parts.
If you're in the market for a Ford utility truck, Ford Transit van or if you need help determining what vehicle would best suit your business objectives, please give us a call and we'll do our best to save your business time and money with the same exceptional customer service that you can expect from the entire Germain Ford of Columbus team.
For more information, call one of our Fleet experts and they can get you started or answer any questions you may have.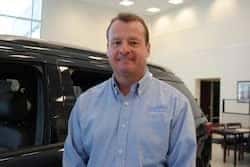 Dale Houghtlen
Fleet Manager
614-401-4824