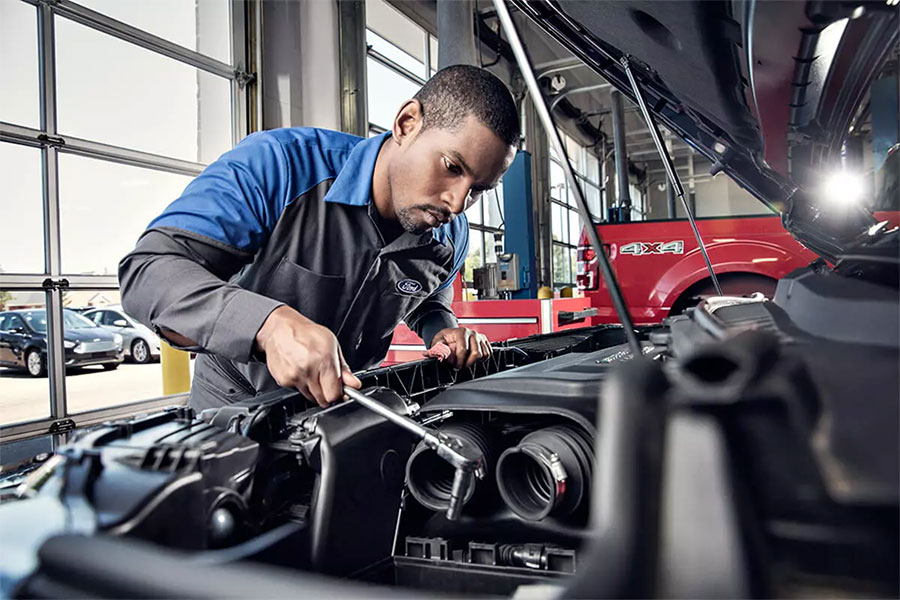 Ford Spark Plug Replacement in Columbus, OH
 Spark plugs are an important but rarely thought of part of your car. They are necessary to start your vehicle and keep it running. The plugs wear down over time and will need to be replaced every few years to keep the engine running at peak performance.
What Is A Spark Plug?
The engine of your gasoline-powered Ford vehicle needs jolts of electricity to start and run. The jolt comes from the spark plugs connected to the cylinders in the engine. When you turn on the ignition, the battery sends a signal to each spark plug to start firing. As the plugs fire, it causes the pistons in the cylinders to move up and down to power the crankshaft. The crankshaft, in turn, sends power to other parts of the vehicle like the differentials and wheels so you can drive around Columbus, Ohio. 
How to Tell When the Spark Plugs are Going Bad
The performance of your Ford vehicle will alert you to the need to bring it into Germain Ford of Columbus to have the spark plugs inspected and replaced. Among the signs to look for include:
Strange Noises. Worn spark plugs will begin to misfire and this will cause pinging or knocking sounds to start coming from the engine as the pistons stop performing as they should. 
Difficulty Starting Vehicle. If the spark plugs do not produce a jolt of electricity, the pistons will not move or will move slowly. This is the result of the gas fumes no longer being ignited as they should in the cylinders to power the pistons.
Poor Performance. The spark plugs need to continuously fire to power the pistons while your Ford is running. If one or more of the spark plugs start to go bad, the engine will not provide the power you need to drive around.

The vehicle will start to feel sluggish and will be slow to respond when you press down on the accelerator.
If you experience any of these symptoms when driving around Columbus, you need to take it into Germain Ford right away to have the spark plugs inspected.
---
Choose Germain Ford of Columbus, OH
We are a family-owned and operated company and service center that has been headquartered in Columbus, OH, for over 65 years and is a part of the community. We not only take care of Ford vehicles, but we also support community organizations like Ohio State University, James Cancer Hospital, and Nationwide Children's Hospital. Our exemplary staff will inspect and replace your spark plugs while you wait in our lounge with coffee, WiFi, and a TV. We also have a pick-up and drop-off service available as well as rental cars. We serve Ford owners from Dublin, Marysville, and Westerville, OH, in addition to Columbus.
Service Hours
Monday

7:00AM - 6:00PM

Tuesday

7:00AM - 6:00PM

Wednesday

7:00AM - 6:00PM

Thursday

7:00AM - 6:00PM

Friday

7:00AM - 6:00PM

Saturday

8:00AM - 4:30PM

Sunday

Closed