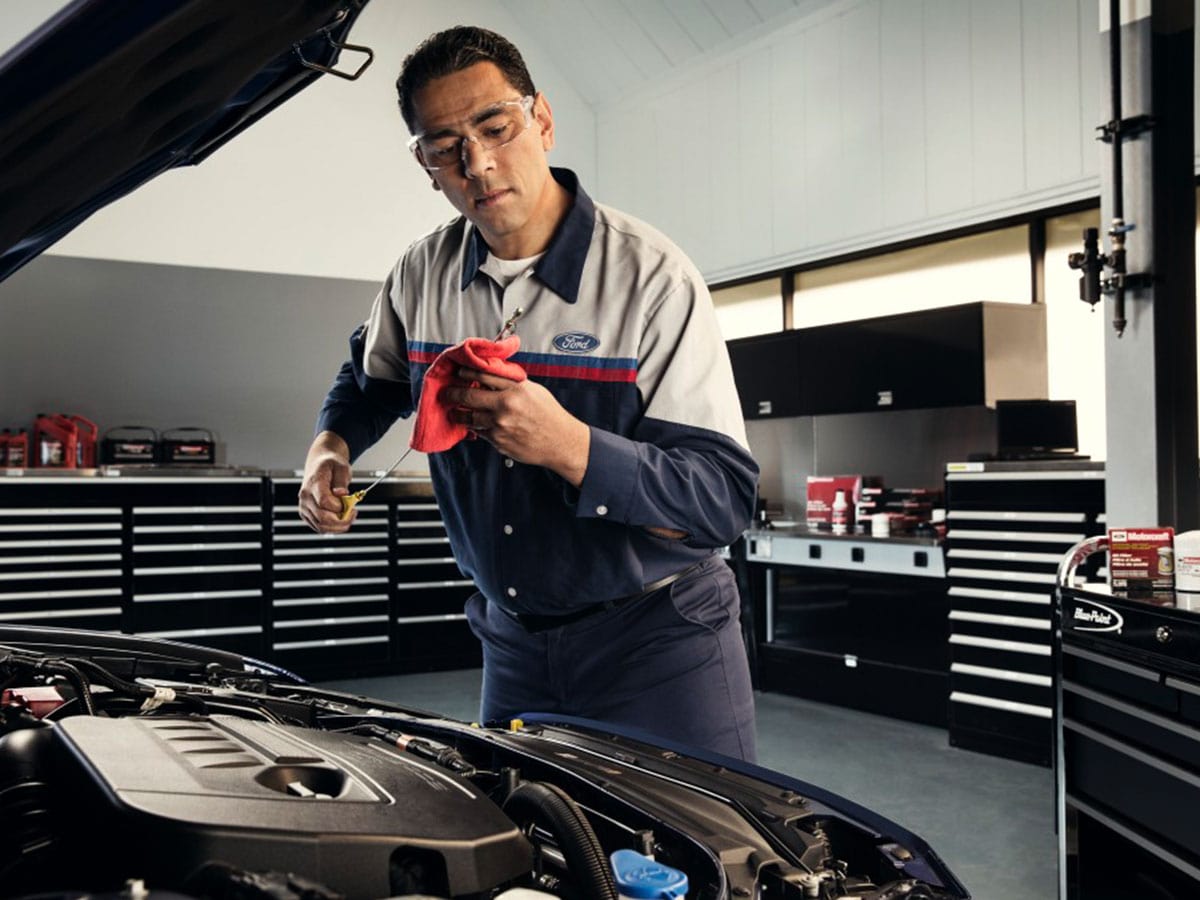 Ford Semi-Synthetic Oil Change in Columbus, OH
Regular oil changes help to extend the life of a car greatly and making sure you have the right oil change for your car is a must. There are plenty of different types of oil change out there and one of the most popular is a semi-synthetic oil change. A semi-synthetic oil change uses both natural oil and synthetic oil in a blend that helps to extend the life of the natural oil so that it works better for a longer period of time. It is still recommended that you change your oil after 3,000 miles or 3 months but it does help to make sure that the oil works as it should right up to the day that you change it. This is a great oil change for those that are driving a great deal or that live in areas where weather conditions might be considered less than ideal to extreme.
Semi-Synthetic Oil
This is an oil change type that works well for those that might be driving a great deal, say a commuter for instance, as the partially synthetic oil is going to help make sure that your engine oil is the right volume and texture, no matter how much you drive in a day. It is also important to note that your car manufacturer may have a recommendation when it comes to the type of oil you are using and this should be taken into account. If you schedule an oil change service, any type of oil change really, it is a must and keeping the oil in your engine fresh is going to help make sure that your car works the way you want it to and that it does keep working so that you are not going to have to deal with issues related to improper oil changes.
What Happens if I Delay an Oil Change?
Delaying the type of oil change, unless expressly stated by the manufacturer, is not going to have nearly as much negative impact as neglecting an oil change all together. If your car manufacturer recommends a specific type of oil you should stick with that recommendation. However, it is a must to get an oil change of some kind if you want your engine to continue to move freely and to work properly.
Oil Change Services from Germain Ford of Columbus
Germain Ford of Columbus has a great customer waiting area, they are a family owned and operated, and they are part of the Germain Auto Group as well. They have a great team of technicians and offer a huge range of services so that you can take care of your car fully.
Service Hours
Monday

7:00AM - 6:00PM

Tuesday

7:00AM - 6:00PM

Wednesday

7:00AM - 6:00PM

Thursday

7:00AM - 6:00PM

Friday

7:00AM - 6:00PM

Saturday

8:00AM - 4:30PM

Sunday

Closed