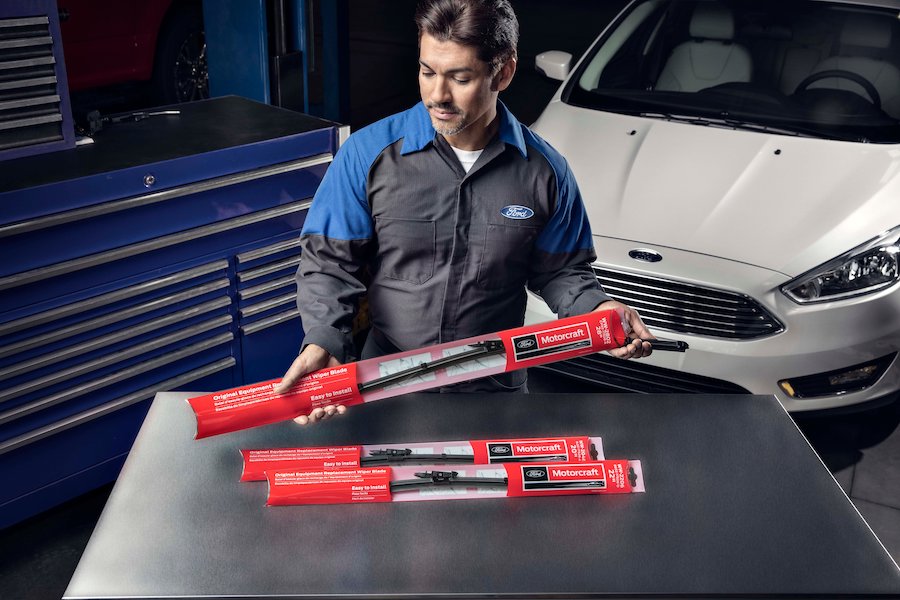 What is Motorcraft Wiper Blade Replacement Service?
Your windshield wipers on your car, truck or SUV are comprised of three parts: the lower wiper arm, the upper wiper arm, and the wiper blade. Windshield wipers have to fit the windshield of every vehicle perfectly as the windshields vary greatly in size and shape. 
Your wiper blades are very important in order to clean your windshield so you can see to drive. Wiper blades last about six months to a year depending on where you live and how much they are used.
Why Should I Have Wiper Blade Replacement Service?
The actual wiper blade on a windshield wiper is a thin strip of rubber that eventually wears down and will not effectively clean your windshield. They perform the important function of cleaning snow and ice, rain, dirt and bugs, tree sap and bird droppings off your windshield. They wear down or may have nicks or cuts in them over time from them wiping debris. Signs of you needing wiper blade replacement are if the rubber deteriorates from the sun, wide swaths that aren't cleaned when using them or a torn rubber edge that is hanging off them.
What Happens If I Don't Get Wiper Blade Replacement Now?
If you don't replace your wiper blades when they are wearing, tree sap and bird droppings that are not effectively cleaned off your windshield can etch the glass of your windshield. You can also have an accident if they aren't clearing the windshield correctly in a rainstorm or snowstorm, which could be devastating.
Choose the Professionals for Motorcraft Wiper Blade Replacement Service
You should only choose a professional dealership such as Germain Ford of Columbus for wiper blade replacement. They can guarantee a perfect fit as they have a large variety of Motorcraft replacement blades in stock at all times in Columbus, OH. The skilled technicians can change your wiper blades in just minutes while you wait in the lounge with WiFi, TV, and coffee. They also offer rental vehicles in advance or upon arrival for services that take longer and have a pick-up and drop off service available. 
You can trust a family-owned and operated business for over 65 years in Columbus to treat you like family. You can visit any of the locations in Dublin, Marysville, and Westerville, OH for fast wiper blade replacement service to get you back on the road quickly and safely. The Germain Auto Group is committed to the community through the Nationwide Children's Hospital, James Cancer Hospital, Ohio State University, and many other organizations.
Service Hours
Monday

7:00AM - 6:00PM

Tuesday

7:00AM - 6:00PM

Wednesday

7:00AM - 6:00PM

Thursday

7:00AM - 6:00PM

Friday

7:00AM - 6:00PM

Saturday

8:00AM - 4:30PM

Sunday

Closed