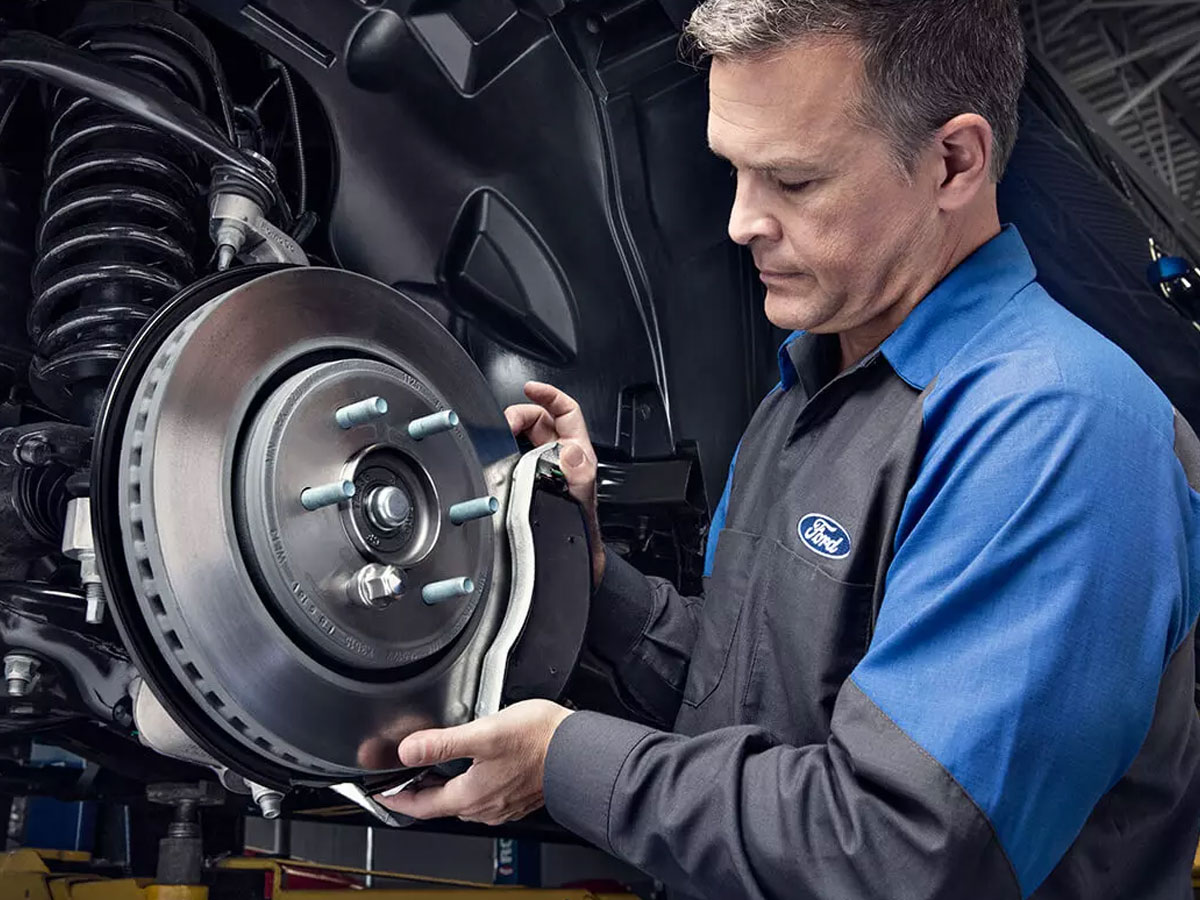 What is Motorcraft Complete Brake Service?
Motorcraft complete brake service is a complex system of inspecting all the components of your brakes on your vehicle and replacing or repairing them to return them to like-new condition. 
This service includes brake lines, rotors and drums, wheel cylinders and calipers, your brake hardware, master cylinder and hoses as well as replacement of all the old brake fluid with new fluid.
Why Should I Have Motorcraft Complete Brake Service?
All the components in your brake system must be maintained for driver safety. The separate parts do wear out after some time and most average about 50,000 miles. The life expectancy depends on several factors including your driving habits, the environment, brake pad hardness and the materials on your parts. If you commute to work every day in traffic, your brakes will likely not last as long due to using them often.
What Happens If I Don't Have Motorcraft Complete Brake Service Now?
Your brakes will give you some signs when they are wearing and parts need replacing. You may hear a scraping or squealing noise when you apply the brake pedal or the vehicle may make other unusual noises or the brakes may not hold you at a stop, as they should. It's important to get complete brake service if you notice any signs because you could get in a serious accident if your brakes fail entirely. It also helps to get the service as soon as you notice one sign of them failing so you don't need to replace additional parts by waiting.
Choose the Professionals for Motorcraft Complete Brake Service
You should only choose a professional Ford dealership such as Germain Ford of Columbus for complete brake service. They can guarantee a perfect fit with genuine Motorcraft parts as they have a large variety of Motorcraft replacement brake parts in stock at all times in Columbus, OH. 
The highly skilled technicians can inspect all components in your braking system and replace or repair any parts needed so that the system is just like new. You can wait in the comfortable lounge with WiFi, TV and coffee while they service your vehicle or you can rent a vehicle in advance of your service. You may want to take advantage of the available pick up and drop off service instead. 
You can trust a family-owned and operated business for over 65 years in Columbus to treat you like family. The Germain Auto Group is committed to the community through the Nationwide Children's Hospital, James Cancer Hospital, Ohio State University and many other organizations. You can visit any of the locations in Dublin, Marysville and Westerville, OH for fast complete brake service to get you back on the road quickly and safely.
Service Hours
Monday

7:00AM - 6:00PM

Tuesday

7:00AM - 6:00PM

Wednesday

7:00AM - 6:00PM

Thursday

7:00AM - 6:00PM

Friday

7:00AM - 6:00PM

Saturday

8:00AM - 4:30PM

Sunday

Closed